FUTURE/LAB BY FULGAR PROJECT CODE: SUBMERGED SOUL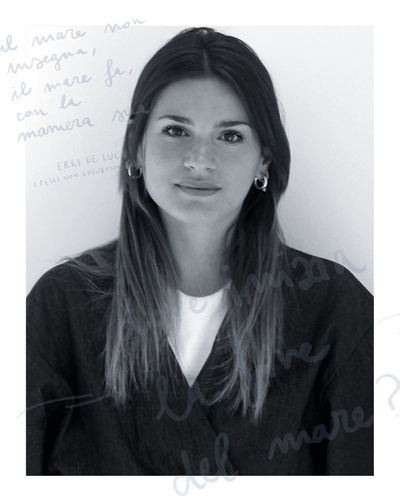 ALESSIA SANTORO
Alessia Santoro is 21 years old and currently in her third year of the three-year course in Fashion Design at NABA, Nuova Accademia di Belle Arti (New Academy of Fine Arts).
Her vision of fashion leads back to the world of art. It is all about imagining, interpreting, seeing things from a new angle and eliciting an emotion - all of this must take place when a project is created.
Opposites merge and barriers vanish while the difference between male and female, natural and processed, unfussy and distinctive ceases to exist.
This is all made possible by selecting the right fabrics, cuts and details. During the planning stage, these aspects play a crucial role and will make or break the entire collection.
It must also be borne in mind that the clothing industry is one of the biggest culprits for pollution in the world; the time has come to take responsibility and work towards levels of sustainability that not only take the needs of planet earth into account but also those of workers and consumers.
For designers, all of these considerations have become a priority if they want to strengthen their brand's reputation, gain their buyers' trust and boost customer satisfaction.
Q-NOVA® BY FULGAR​
A contemplation of the sea and the sound it makes gave rise to the project Submerged Soul; that soothing sound of waves breaking against the rocks before everything is smothered inside a bubble.
But it is also the memory of this experience, it is a submerged soul.
There is no distinction between beautiful and ugly in this collection; they converge to create something that comes into existence for the very first time.
A study of the silhouettes inspired by sportswear (such as scuba suits and bathing costumes) was a vital part of this project that was carried out with the help of Fulgar. Alessia chose a jacquard-lace fabric produced by the ILUNA Group and made from the recycled yarn Q-NOVA® by Fulgar; the patterning on the fabric consists of micro perforations which not only provide the skin with freshness but also give a sheer look; the colour palette of the collection draws clear inspiration from both the creatures dwelling at the bottom of the sea and from discarded plastic waste which has been invading our oceans for years now.